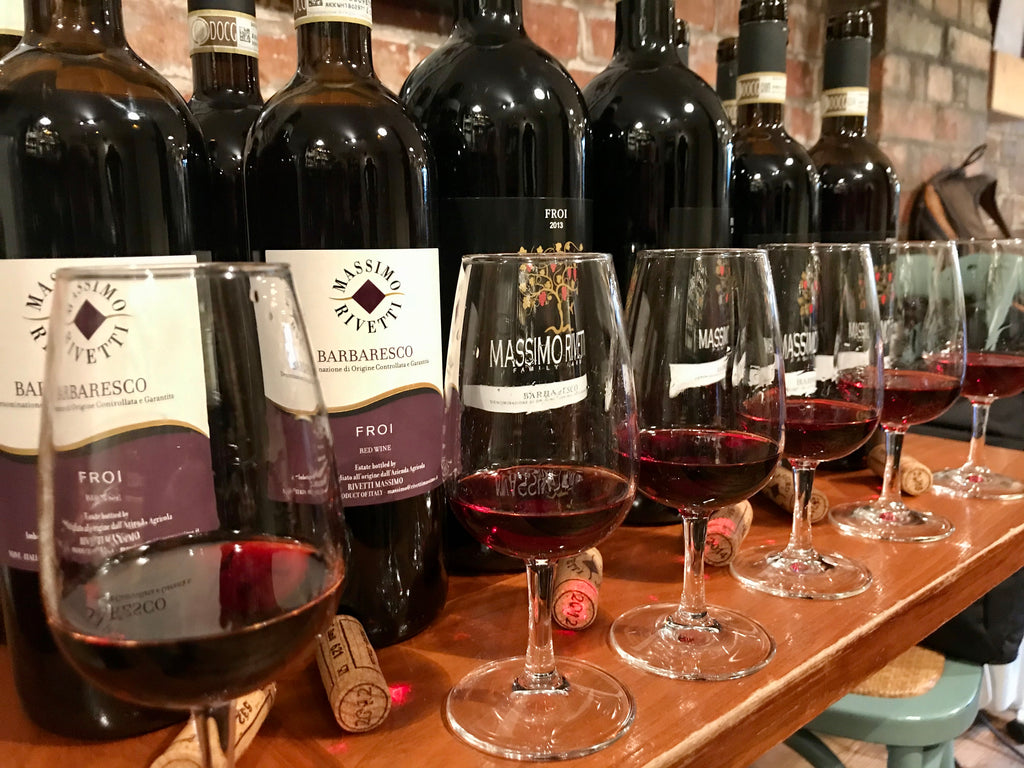 Vertical Wine Tasting is an indispensable tool to appreciate more about a specific wine. Yesterday we had the rare opportunity to taste a range of bottling of Barbaresco Froi from Massimo Rivetti from 2016 back to 2011 and to compare  the different vintages and get a sense of the influence of the yearly climate on the final product and a cross-section of the history of the winery at the same time. Vinarius was fully booked for the occasion and we had a nice time tasting together six outstanding products with quite different characters. These are few notes for you together with some feedbacks from our customers.
2016
This is the latest release vintage of Barbaresco and of the first year with a certified organic on the label. It shows a lot of energy and powerful tannin with an incredible backbone of acidity and a very long ageing potential and an elegant aromatic profile. A wine to buy and keep for another couple of years and will last for 10+ years. A legend in the making.
2015
A great vintage that combine very well its intriguing fruitiness made of fresh  cut strawberry and dried fruit (cranberry) with some spiciness and developed aromas (cedar wood, dried herbs) together with a touch of floral character. Nice firm tannin and a fresh finish.
2014
Soft and round on the palate with a delicate bouquet that shows ripe red cherry and dried rose petal aromas. A very approachable Barbaresco with a well integrated wood and a smooth tannin. At its best for the vintage.
2013
A deep coloured, full-bodied Barbaresco with plum, black cherry aromas and leather hue. It has a velvety tannin with a nice  juiciness on the palate with a surprising long lasting concentration.
2012
It was the favourite of the evening. A bit restrained on the nose at the beginning (it needs to be open at least one hour before drinking it) but after that it showed a classy, complex bouquet with well integrated layers of fruitiness (sweet cherry), toastiness  (chocolate, toffee), floral (violet) with a touch od spiciness (cloves). The palate is very refined with and elegant texture sustained by a still fresh acidity. Simply sublime.
2011
Full-bodied and ripe with a nice sweetness and concentration and a developed bouquet with blackberry fruit, cocoa and black truffle aromas. Nice, soft but still firm tannin with a long finish. Delicious now.