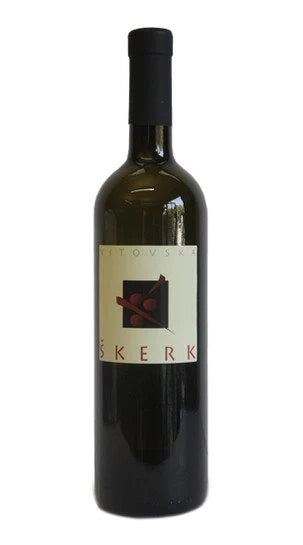 Skerk's Vitovska is a stunning white, a testament to one of the best hands in the world of artisanal wine. When we talk about Sandi Skerk and his wines, we are talking, in our opinion, about one of the most sensitive producers in the Karst, able, like few others to combine the vigorous contribution of the skins during vinification with a style that is always elegant and enjoyable. The setting is that of the strip of land that separates Italy and Slovenia, and practices in the vineyard are aimed at total respect for the integrity of plants and fruit, so the use of any chemical or synthetic substances is banned. Obviously, the extraordinary local indigenous vines, such as Vitovska and Malvasia, are the stars, flanked by vines that have now become local heritage such as Sauvignon and Pinot Grigio. Truly sensational bottles that have the power to unite anyone who approaches them.
Skerk's Vitoska is made from pure grapes of the homonymous variety grown in Ograde, a watershed between Italy and Slovenia. In the vineyard, the dictates of organic farming are followed, so chemicals are banned, helping only with a little copper and sulfur. In the winery the same mentality is followed, intervening with spontaneous alcoholic fermentation in wooden barrels and maceration for a few days on the skins. No clarification or filtration before bottling.
Skerk's Vitovska wine presents itself in the glass with a bewitching amber hue. The nose is extraordinary in the way it combines spontaneity and definition, squaring notes of melba peach, wild herbs, honey and eucalyptus. On the palate, the wine impresses with its persuasive and creamy tactility as well as its saline charge that lengthens remarkably its persistence. An experiential bottle.