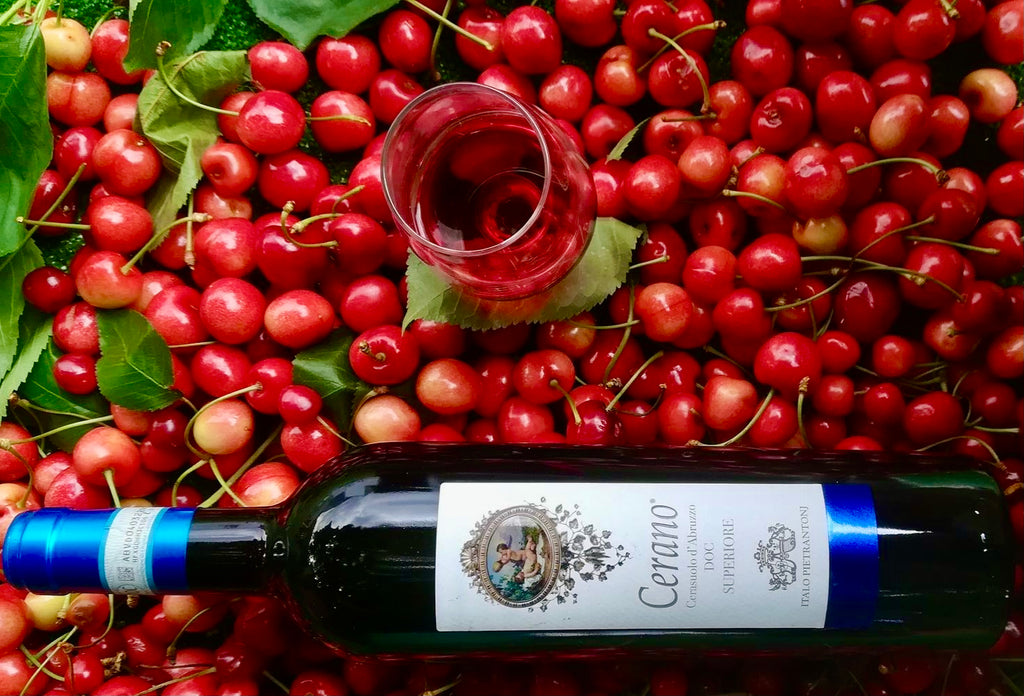 In the same way an Orange Wine cannot be considered a white wine only because it is produced from a white grape variety, Cerasuolo cannot be considered only a rosè wine. It is simply another type of product with different shades of colours, quality and styles.
The name comes from the word "Cerasa" which, in the Southern Italian dialects, means Cherry and recognised with proper exclusive appellations (DOC). There are two important Cerasuolos: one from Sicily and one from Abruzzo. The first one is often a light, fragrant but firm red made with Frappato and Nero d'Avola, while the second is a very intense, dry and bold rosé made with Montepulciano grape.
 For hundred of years in Abruzzo the big, full-bodied red Montepulcianos (locally known as "fermentato" because they were fermented with the skins of the grape) were destined only for important occasions, mainly to accompany the (rarely served) meat dishes.
Cerasuolo was the popular wine choice for its versatility, in fact it can match not only tasty vegetables but also white meat dishes, fish stews or the local "arrosticini" lamb skews.
Technically Cerasuolo is produced with a "skin contact" of few hours just before fermentation but what really makes a big difference is the attention reserved during the whole vinification and the quality of the grapes that is traditionally used for its production. Around the world (and with few exception) rosé wines are often culturally considered a "second class" cheap alternative to the red wines and produced with lower quality raw material, often bottled with residual sugar to mask some of the faults.
 Antica Casa Vitivinicola Pietrantonj makes a beautiful example of Cerasuolo Superiore "Cerano" from the best grapes of their top vineyards. The result is a vibrant, bright color with a symphony of cherry aromas (ref cherry, black and sour cherry) combined with ripe strawberries on the nose and a clean, dry palate with just a touch of tannin.
One small detail: the very dark bottle has been chosen to protect the delicate colour and aromas from the light and enhances the surprise when you pour the wine in a glass.