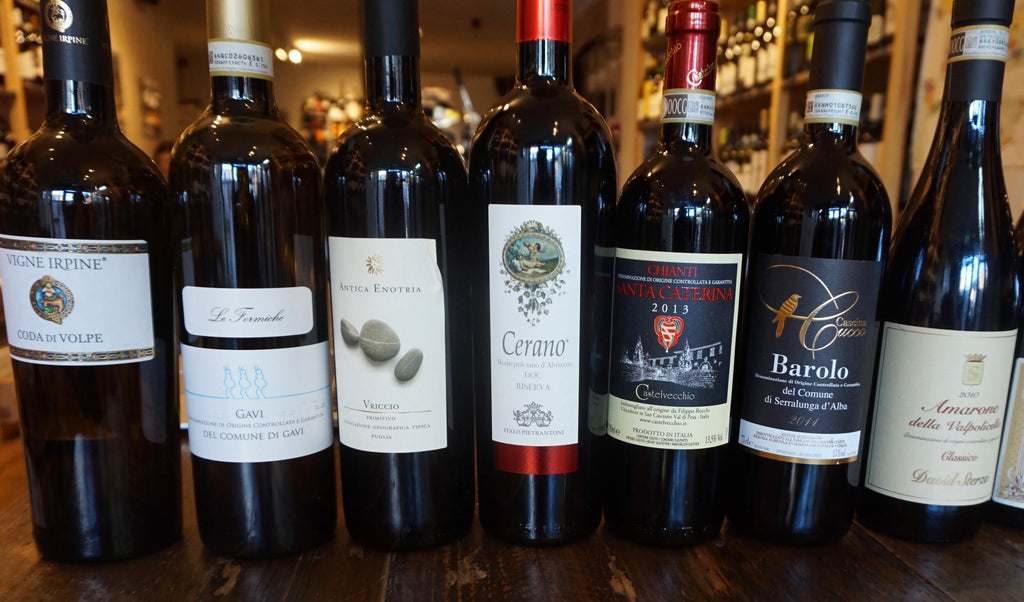 Italy can be the most exciting place in the world to choose a bottle of wine from. History and wine are virtually synonymous here and the country boasts thousand of wine styles, grape varieties and producers like no one else. Of course, buying Italian wine can also be overwhelming due to the sheer number of names, appellations and areas that need remembering. So here are a few quick tips that should steer you in the direction of a great bottle of vino italiano.
Price:
Granted certain exceptions, the price of a bottle can be a useful indication of the quality of a final wine – consider that the majority of Italian wines imported into the UK are sold in supermarkets. Wines tend to come with a higher price tag if they come from eco-conscious, small producers who carefully oversee the entire process from grape to bottle.
Region:
Italy is the only country in the world in which every single political region produce wine and has its own specific appellation. Every style of Italian wine is rooted in the geography, climate and culture of its corresponding region and vice-versa. So, if you like Tuscany, for instance, look out for a Chianti or a Brunello or if you feel like exploring a seaside region such as Puglia or Sicily, go for a Primitivo or Nero d'Avola.
Classification:
Italian wine classification is quite complicated and very strict. At the top of the quality pyramid are bottles labelled as DOCG (Denominazione di Origine Controllata e Garantita), which means that the wines are produced under very rigorous rules and supervised and guaranteed by a government body. Only around 7% of total Italian wine production comprises DOCG-level wines, and this includes most of the famous names (Barolo, Brunello etc.). For a very safe choice, opt for a DOCG, which can be recognised by the sticker on the neck of the bottle.
Grape Varieties:
In the world there are around 1,300 grapes varieties that you can use to make wine, and almost all come from the Mediterranean area. Italy alone possesses 400 grapes used in wine production from the very popular and widespread (Sangiovese, Pinot Grigio etc.) to the very rare or even nearly extinct. Yet all of them come complete with a particular character and history. This provides the chance to experiment and be inspired by the unparalleled diversity of this blessed country for a lifetime.  Why not ask for a Ruché (which is also a DOCG), a Grechetto, a Pecorino, a Coda di Volpe or a Grignolino? Drink, learn and enjoy: the choice is endless!

Eugenio Ciccarelli is a qualified winemaker and specialist Italian wine buyer for Vinarius.