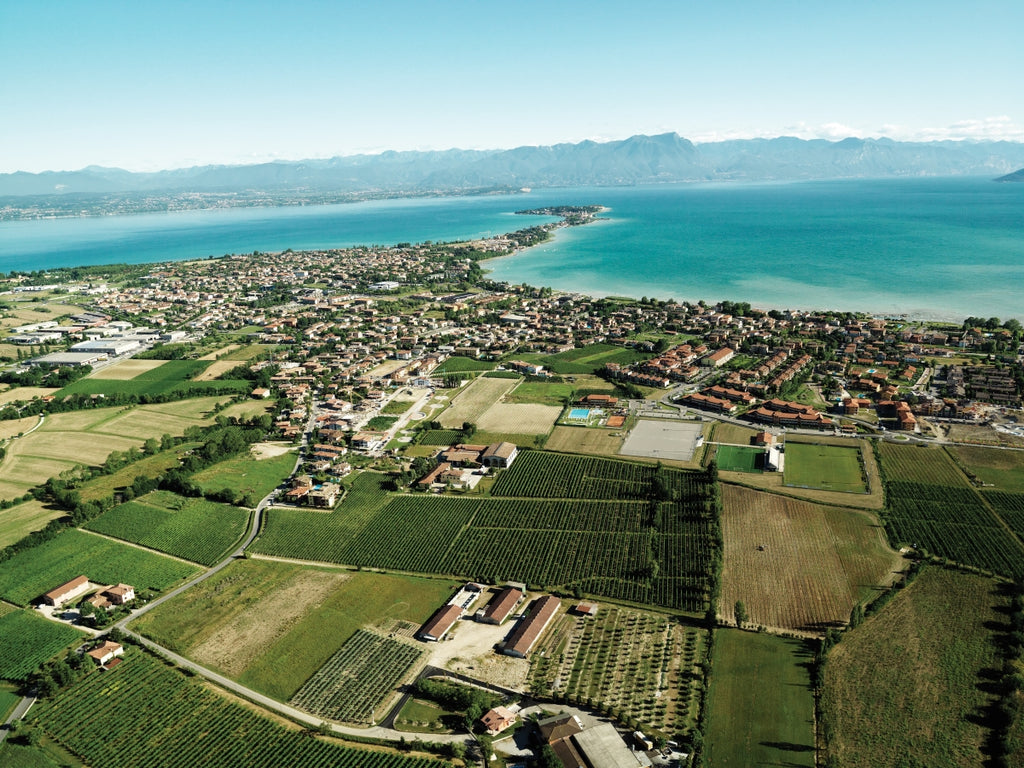 Lake Garda (Italian: Lago di Garda) is not only the biggest lake in Italy but also a beautiful and very popular holiday destination for thousands of people every year. Although is located on the northern part of the Italian peninsula, halfway between the two cities of Verona and Brescia, lake Garda is blessed by a particular mild climate which also favours the growth of Mediterranean plants such as olive and lemon trees.
On the southern shores of the lake with only 2500 acres of vineyards shared by hundreds of small farms, lies the area of production of a very interesting dry white wine: Lugana.
Made with 100% of "Turbiana", a distinctive grape variety often associated with the Trebbiano di Soave or Verdicchio grape, Lugana wine has been made there for hundreds of years and its characteristics and style is strongly influenced from its area of origin. The soil, in fact, is a strikingly white and fertile clay-limestone and, together with the mild microclimate, benefit enormously from the influence of the lake. The quality of the final products are overlooked and protected by a local consortium (Consorzio Tutela Lugana DOC) which allow five different interpretations of the same grape variety: the classic and popular Lugana (which represent 90% of the total production of the whole appellation), Lugana Superiore, Lugana Riserva, late harvest Lugana and a sparkling version.
Right at the hearth of the appellation, in the little pretty town of Sirmione, the Pasetto family has been passionately cultivating their vineyards for generations. Emilio first and now and his son Stefano produce the "Cascina Albarone" wine which is the quintessential quality Lugana: pale straw yellow in colour with a delicate, fruity and floral nose with hints of almonds. On the palate is dry and mineral with intriguing citrusy aromas and a classy and long finish. Vinarius proudly import and sell "Cascina Albarone" for a retail price of £14.95