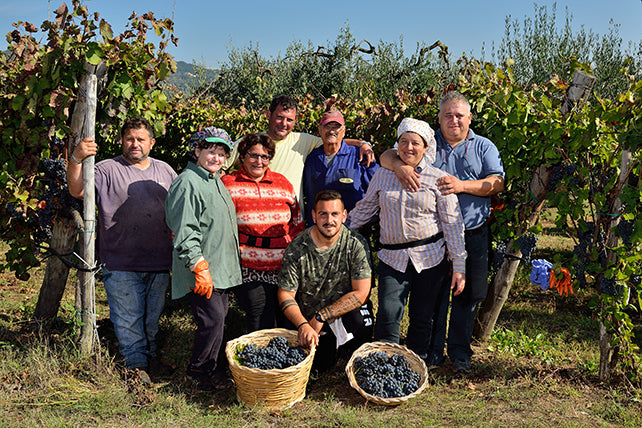 Il Poggio has been owned and taken care by the Fusco family for generations.
Located in one of the most suited (and at the same time little known) area for viticulture in Italy: Sannio, in the southern Campania region. This is an inland, little accessible territory, with very steep hills and rich in history and traditions: it was first occupied by the ancient Greeks and then contended by the Samniets and the Romans.
Here brothers Carmine and Marco Fusco and their families are proudly and passionately dedicate all their efforts to grow the local grapes in their vineyards and produce outstanding quality wines:
Aglianico (the name probably comes from Vitis Ellenica: latin for "Greek Vines") is the principal and most important red grape variety, often nicknamed the "Barolo of the South" for its capacity to give refined, long ageing and full-bodies reds. Vinarius imports directly from il Poggio three different versions: an easy drinking, young Aglianico "Guerriero", a full-bodied and rich Aglianico del Sannio and a fine and old Vintage Aglianico del Taburno Riserva.
Fiano is considered one of the best southern Italian white grape variety and finds in this high hills the perfect location and soil for the production one of the most interesting and complex versions: Fiano del Sannio.
Falanghina is another ancient, local, grape variety that Vinarius proudly imports in two very different wine styles: a dry (and very popular)  white Falanghina "Guerriero", and a unique and soft Late Harvest Falanghina.